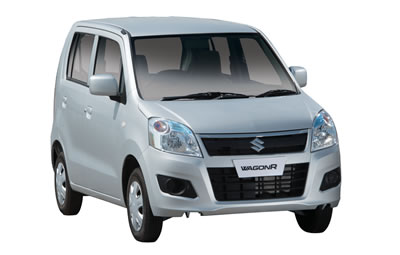 Suzuki Motor Corporation's subsidiary Pak Suzuki Motor Co., Ltd. has started production of the WagonR, and has started its sales in Pakistan from 20 April, 2014.
WagonR produced by Pak Suzuki has the same overall width and height as the Japanese mini car WagonR. Only its overall length has been stretched 205mm in the engine room to equip a 1.0L engine which suits the local usage.
Pakistan is the third country to produce the Japanese mini car WagonR at Suzuki's overseas production base. Accumulated global sales of models based on the Japanese mini car in CY2013 was approximately 1.32 million units (Japan: 620,000 units, Overseas: 700,000 units), of which 350,000 units were models based on the WagonR.
Since the start of production and sales of the Fronte in 1982, Pak Suzuki has been producing and selling a number of automobiles. Suzuki's share in Pakistan's passenger car market accounts to 54%. By adding the WagonR to its lineup, Pak Suzuki will create new needs and expand the sales.
Overview of Pak Suzuki Motor Co., Ltd.
Location of headquarters:
Pakistan Steel Industrial Estate in Bin Qasim (suburb of Karachi)
Representative:
Hirofumi Nagao
Area of site:
259,200m2
Area of plant building:
50,287m2
No. of employees:
Approx. 2,400 (as of the end of March 2014)
Capital:
820 million rupees (approx. 800 million yen)
73% Suzuki investment
FY2013 production unit:
77,000 units of automobiles
24,000 units of motorcycles